OUT OF LOVE OF SPECIALTY COFFEE
I love the smell and taste of a really good quality cup of coffee and I really don't like instant coffee and cheap vending machine coffee.
As an outdoor enthusiast, sailor, angler, hunts and entrepreneur with many travel days away from home, I missed the opportunity to brew and enjoy a nice cup of coffee - when I needed it most.
Inspired by the stamp jug and pour over filter coffee, I tried to create a hybrid solution. As rich in flavours as piston-made coffee, but with the ease of brewing, as instant coffee.
Inspired by the wine industry, I wanted to incorporate the history of coffee and bring the consumer back to the origins of coffee.
It took many years of development before we managed to get to the place we wanted to be in terms of convenience and quality.
By October 2014, we had finally achieved what we set out to do, namely to offer every coffee lover to brew and enjoy specialty coffee - even away from home.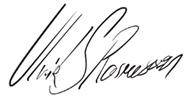 Ulrik Skovgaard Rasmussen,CEO & Grundlægger